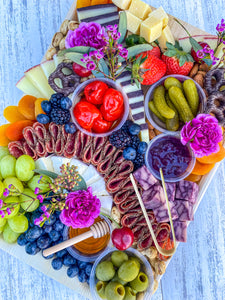 The Medium Picnic Platter from Picnic Grazing Co. is perfect for serving 4-6 people. It comes on a 10x14 palm leaf platter, with crackers on the side.
This platter is perfect for any occasion, from a casual picnic to a more formal gathering. It's sure to impress your guests with its beautiful presentation.
The Medium Platter is made with the freshest ingredients and is sure to be a hit with everyone. Enjoy the convenience of having a delicious platter ready to go in no time.
(Platters vary in aesthetic and item types based on what we're able to source daily)